About the Journal
The Indian Journal of Critical Disability Studies (InJCDS) is an open-source, online, international peer-reviewed journal published twice a year (January/ February and July/ August). ISSN: 2583-5610 (Online)
InJCDS focusses on bringing forth original research on disability issues that emerge from examining both the political and the personal aspects of individuals, collectives, and the systemic. InJCDS is interested in arguments against or in favour of the idea that both the universal and the specific are essential. InJCDS is especially keen on research highlighting the unavoidable intersectional dimensions of class, gender, caste, hemisphere (with a focus on south Asia), and technology in relation to disability. We encourage constant questioning of binaries, of categories, of foundational positions of others and ours. 
Authors are typically contacted with a decision regrading publication after six months from the date of submission. 
Current Issue
Vol. 2 No. 1 (2022): Indian Journal of Critical Disability Studies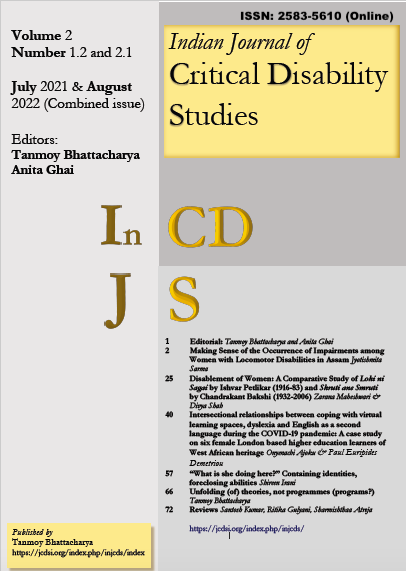 Issues 1.2 (July/ August, 2021) and 2.1 (January/ February, 2022) have been combined and published as issue number 2.1 here. 
The next issue, that is, issue number 2.2, will be published in October-Novemeber 2023. Please see call for papers for issue number 2.2 for further details. 
Please make sure that you follow the submission guideline to enable faster processing of your paper. 
Note that there are no Article Processing Fee charged for pubication by this journal. However, this also means that authors stick to the guidelines as closely as possible for us to be able to keep the processing free of cost. 
Published: 21.08.2022
Full Issue
View All Issues
For queries, write to both the following email addresses:
editors@jcdsi.org; critdsi@gmail.com
Postal address:
Editor, InJCDS
D-7/3 Maurice Nagar
Delhi 110007