Disability Discourse in Hindi Literature
A Review of Jeevan Sangram ke Yoddha: Divyang Patron ki Prasiddh Kahaniyan, edited and collected by Sandhya Kumari
References
Anand, S. (2013). Historicising disability in India: Questions of subject and method. In R. Addlakha (ed.), Disability Studies in India, New Delhi: Routledge India, pp. 35-60.
Chander, J. (2016). Disability of language: Disabled peoples are not blessed with divine organs, Language and Language Teaching, 5(2). pp. 34-37.
Ghai, A. (2012). Engaging with Disability with Postcolonial Theory. In: D. Goodley, B. Hughes, L. Davis, (eds.) Disability and Social Theory, London: Palgrave Macmillan. https://doi.org/10.1057/9781137023001_16
Kawale, R. B. (2013). Swatantrayotar Hindi Katha Sahitya me Vikalng Charitra, Ph.D. Thesis, Unpublished. Dr. Babasaheb Ambedkar Marathwada Viswavidhalaya, Aurangabad. Shodhganga.
Kumar, S. (2018). A Sociolinguistic Analysis of Stereotypes, Prejudices and Discrimination of Gender and Disability in Talk and Text. Ph.D. Thesis, Unpublished, University of Delhi.
Kumari, S. (2019). Jeevan Sangram Ke Yoddha: Divyang Patron ke Prasiddha Kahaniyan, Delhi: National Book Trust.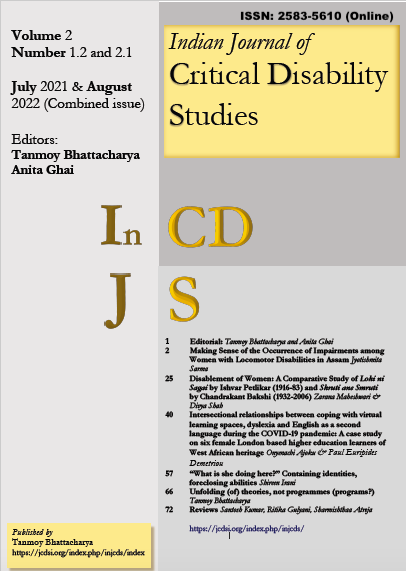 Downloads
How to Cite
Kumar, S. (2022) "Disability Discourse in Hindi Literature: A Review of Jeevan Sangram ke Yoddha: Divyang Patron ki Prasiddh Kahaniyan, edited and collected by Sandhya Kumari", Indian Journal of Critical Disability Studies. Delhi, India, 2(1), pp. 72–76. vailable at: https://jcdsi.org/index.php/injcds/article/view/71 (ccessed: 2 December 2023).
License
Copyright (c) 2022 Author; InJCDS
This work is licensed under a Creative Commons Attribution-NonCommercial-ShareAlike 4.0 International License.
Protected by CC by 4.0 
Our public licenses are intended for use by those authorized to give the public permission to use material in ways otherwise restricted by copyright and certain other rights. Our licenses are irrevocable. Licensors should read and understand the terms and conditions of the license they choose before applying it. Licensors should also secure all rights necessary before applying our licenses so that the public can reuse the material as expected. Licensors should clearly mark any material not subject to the license. This includes other CC-licensed material, or material used under an exception or limitation to copyright