Introduction
Keywords:
EOC, CDSI, Disability, Gramsci, Ideology, terrain, gender, Disability Studies
References
Barnes, E. (2018). Arguments That Harm – and Why We Need Them. https://www.chronicle.com/article/arguments-that-harm-and-why-we-need-them/

Bhattacharya, T. (2018). Disability Studies as resistance: The Politics of estrangement. In Anita Ghai (Ed.), Disability in South Asia: Knowledge and experience. New Delhi: Sage Publishing India Pvt. Ltd., pp. 75–98.

Bhattacharya, T. (2014). Are We All Alike? Questioning the pathologies of the 'Normate'. Paper presented at the Inequality in Education International Conference, University of Delhi, Nov. 2014.

Bhattacharya, T. (2021). Are We All Alike? Questioning the pathologies of the 'Normate'. In R. K. Agnihotri, V. Gupta, and M. Panda (eds.), Modern Transformations and the Challenges of Inequalities in Education in India. Noida: Orient BlackSwan, pp. 431-463.

Bhattacharya, T. (2020). Unfolding (of) theories, not programmes (programs?). Talk delivered at the Fostering Research in Disability winter school on 19 December 2020, organised by NALSAR and BITS Pilani, Hyderabad.

Campbell, F.K. (2009). Contours of Ableism: Territories, Objects, Disability and Desire. London: Palgrave Macmillan.

CDSI: https://sites.google.com/view/cdsi/home

Goodley, D., Hughes, B. and Davis, L. (2012). Disability and Social Theory. London: Palgrave Macmillan.

Hunt, Paul. 1966. A Critical Condition. In Hunt, Paul (ed.), Stigma: The Experience of Disability, London: Geoffrey Chapman, p. 145-59.

Linton, S. (1998). Claiming Disability: Knowledge and Identity. New York: NYU Press.

Meekosha, H., and Shuttleworth. R. (2009). What's So 'critical' about Critical Disability Studies? Australian Journal of Human Rights, 15.1, 47–75.

Goodley, D. (2013) Dis/entangling critical disability studies. Disability & Society, 28:5, 631-644, DOI: 10.1080/09687599.2012.717884.

Oliver, M. (1990). The Politics of Disablement,. London: Macmillan.

SIG-DSU at: https://ijcds.wordpress.com

Wolbring, G. (2014). Ability Privilege: A needed addition to privilege studies. In Journal for Critical Animal Studies, 12.2, pp. 118-141.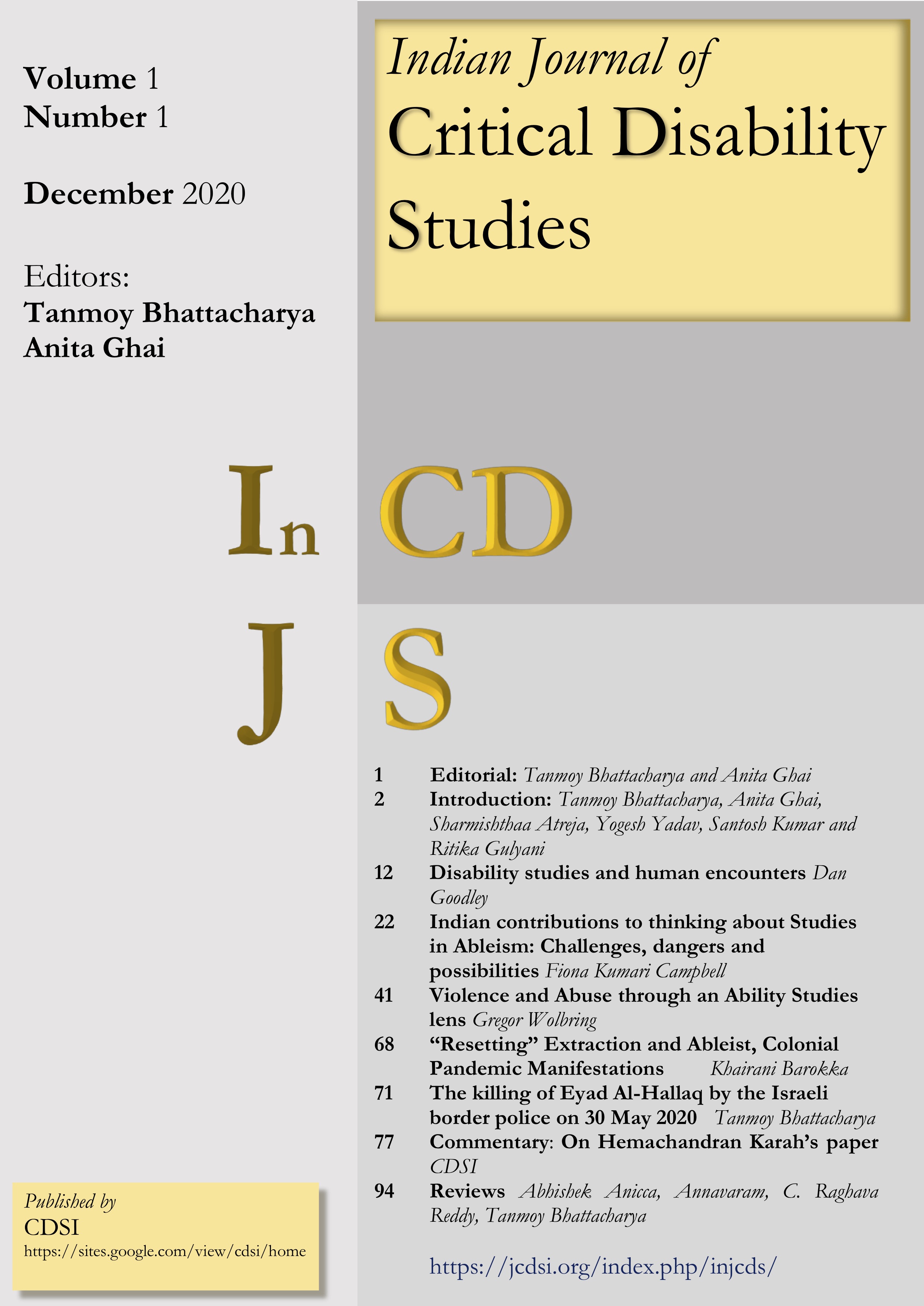 Downloads
Published
2021-01-07 — Updated on 2020-12-31
How to Cite
"Introduction" (2020) Indian Journal of Critical Disability Studies. Delhi, India, 1(1), pp. 2–11. vailable at: https://jcdsi.org/index.php/injcds/article/view/33 (ccessed: 12 August 2022).
License
Copyright (c) 2021 Bhattacharya, Ghai, Atreja, Yadav, Santosh, Gulyani
This work is licensed under a Creative Commons Attribution-NonCommercial-ShareAlike 4.0 International License.
Protected by CC by 4.0 
Our public licenses are intended for use by those authorized to give the public permission to use material in ways otherwise restricted by copyright and certain other rights. Our licenses are irrevocable. Licensors should read and understand the terms and conditions of the license they choose before applying it. Licensors should also secure all rights necessary before applying our licenses so that the public can reuse the material as expected. Licensors should clearly mark any material not subject to the license. This includes other CC-licensed material, or material used under an exception or limitation to copyright